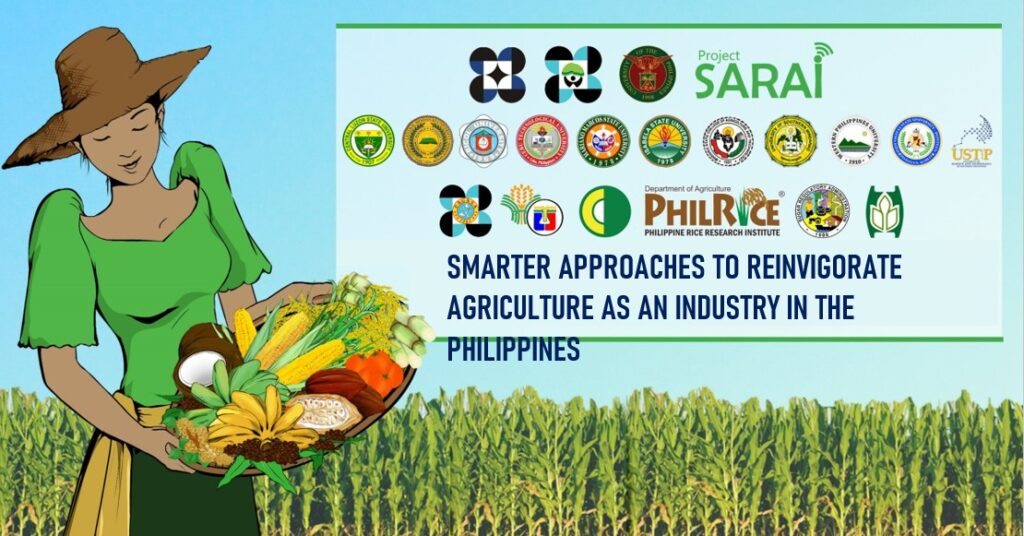 SARAI, or Smarter Approaches to Reinvigorate Agriculture as an Industry in the Philippines is a program funded by DOST-PCAARRD, working towards reducing climate risks by providing agricultural stakeholders with site-specific crop advisories. With the University of the Philippines Los Baños as the lead implementing agency and its joint efforts with partners from 11 State Universities and Colleges and several National Government Agencies all over the country, the SARAI Program aimed to craft crop advisories that focus on integrating local weather data and drought forecast with farm management activities, specifically nutrient and water management, and proactive pest and disease monitoring.
SARAI developed more than 15 technologies accessible at the SARAI Knowledge Portal (www.sarai.ph) to empower farmers, technicians, and policymakers in planning implementing, and monitoring strategies and interventions to cope with and minimize climate change impacts to nine (9) priority crops: rice, corn, banana, coffee, cacao, coconut, sugarcane, tomato and soybean.
The portal uses Geographic Information System in the Interactive Maps section that can be used for nationwide crop forecasting and advisories, and in farm management and decision making of farmers.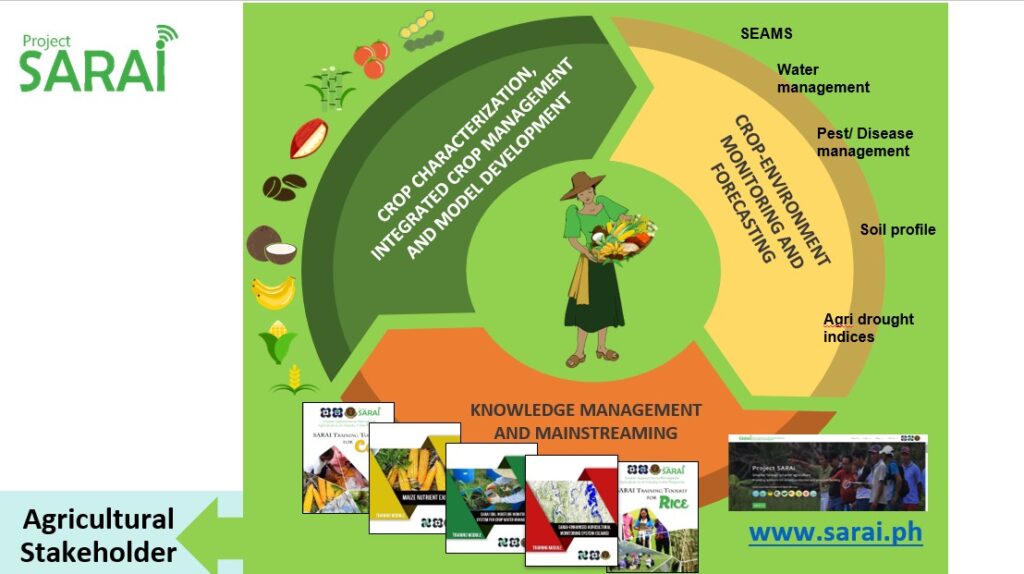 The crop characterization component of SARAI focuses on model development for the nine SARAI crops. These models serve as inputs and technical information for SARAI crop advisories such as yield forecast, management practices crucial for specific crop growth stages, and effects of daily weather and seasonal climate on planted crops.
Under crop environment monitoring and forecasting, the SARAI Enhanced Agricultural Monitoring System or SEAMS uses open-source and regularly available satellite images to monitor areas planted with SARAI crops. It also integrates the whole program into a system where crop models provide input to monitoring data and vice versa; and where SARAI technologies add value and address field challenges on lack of crop weather data, water management, pest and disease monitoring and management, soil profile, and agricultural drought indices.
The knowledge management and mainstreaming component handles three major functions: 1) maintaining the SARAI knowledge portal; 2) designing and implementing the program's capacity building plan; and 3) implementing the program's communication plan and mainstreaming efforts.