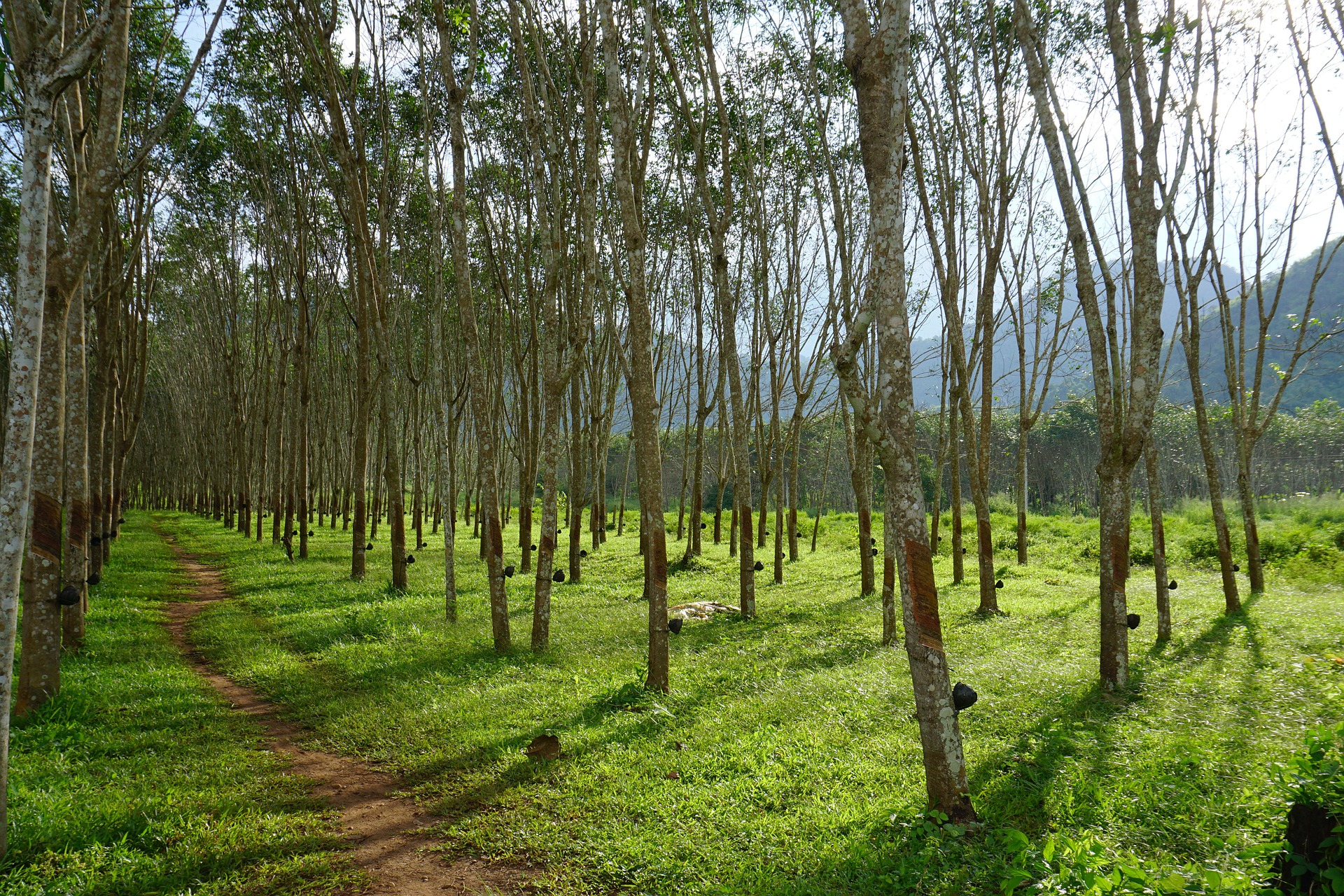 Rubber is one of the most popular agro-industrial crops in Southeast and South Asia. Major countries producing rubber worldwide include Thailand, Indonesia, Vietnam, China and India. Scientifically known as Hevea brasiliensis, the rubber tree is a robust perennial crop with natural rubber (NR) as its main product. Majority of rubber production in the Philippines is sourced from Mindanao, wherein the country ranked 10th in the world in terms of natural rubber production back in 2014. As of 2021, the top rubber-producing province in the country is Cotabato with over 143 thousand MT of coagulated cup lump produced. This is followed by Zamboanga Sibugay and Basilan with 117,314 MT and 76,433 MT, respectively. On the other hand, the top producing regions are Zamboanga Peninsula, SOCCSKSARGEN and BARMM.
Rubber tires for vehicles are considered to be a highly demanded product of NR. In 2014, demand for tires accounted for around 72 percent of global rubber demand, while the remaining 28 percent were recorded from sales of products such as belts and hose, thread and foam, and general rubber goods and non-tire products.
Despite the marketing potentials for natural rubber, its production has consistently been unable to cope with increasing demand. The following factors were identified by the Rubber Industry Roadmap (2016-2022) as challenges needed to be addressed:
Lack of research for industry data and rubber products;
Lack of promotion and recognition both in the local and international markets;
Lack of quality planting materials;
Low productivity and price of NR;
Non-adoption of Philippine National Standards for NR;
Non-ISO certified processors; and
Lack of public and private institutions to support and enhance promotional activities.

Rubber Policies
| Policy Type | Policy Number | Policy Year | Congress | Policy Title | Policy Description | Policy Objective | Policy Link |
| --- | --- | --- | --- | --- | --- | --- | --- |
| Law | Republic Act No. 10089 | 2.009 | 14th | An Act Creating the Philippine Rubber Institute to Develop the Philippine Rubber Industry and for Other Purposes | The establishment of the Philippine Rubber Research Institute aims to comprehensively realize the goals of human empowerment and economic development in the countryside through programs and projects that will increase rubber production in the country, and improve quality of life especially in poor rural communities that depend primarily on this industry | "Philippine Rubber Research Institute" refers to the main institute for rubber at the Mindanao State University (MSU) to be based in the Municipality of Naga, Province of Zamboanga Sibugay and its satellite units as may be subsequently established whose mandate is to initiate and administer research and development programs to improve quality and increase productivity of rubber especially for the benefit of smallholder rubber producers and processors. | http://senate.gov.ph/republic_acts/ra%2010089.pdf |
| Bill | Senate Bill No. 526 | 2.019 | 18th | An Act to Develop the Rubber Industry, Establishing for the Purpose the Philippine Rubber Industry Development Board, Defining its Powers and Functions and Appropriating Funds Therefor | The bill aims to establish the Philippine Rubber Industry Development Board (PHILRUBBER), which will further strengthen the foundations of the Philippine rubber industry to its full potential by creating more opportunities in the agricultural and manufacturing sector. | With the rising demand for natural and synthetic rubber, it is expected that demand for rubber will reach up to 15.238 million tons by the year 2022. Much of this demand would stem from the rise of industries making use of rubber such as the automotive, footwear, and healthcare industries. The rubber industry in the Philippines produced up to about 181,313 MT of rubber in the year 2016, which was fewer by 8.92% than in 2015. Furthermore, the overall export performance of rubber in the Philippines declined. The total export revenue generated by the rubber industry in 2016 was only US135.08 million, whereas in 2012, the total export revenue was US405.99 million. This measure provides a means of producing a steady supply of quality rubber by enhancing the competitiveness of the processing and manufacturing of rubber and rubber-based products. | http://senate.gov.ph/lisdata/3090927762!.pdf |
| Bill | Senate Bill No. 3393 | 2.009 | 14th | An Act Creating the Philippine Rubber Authority (PhilRA), Defining its Powers and Functions and Appropriating Funds Therefor | To promote the integrated development of the rubber industry in all its aspects from research, production, processing, marketing and trade regulation to make them globally competitive; To sustain the growth of and demand for rubber in both domestic and international markets; To formulate and enforce standard and regulatory measures in order to maintain good quality rubber products traded in the domestic and international markets; To encourage and provide adequate incentives to investment in rubber industry; To improve farm productivity through the adoption of modern prescribed technology so as to increase farmers' income, sand; To encourage and promote the use of locally produced rubber products. | The Philippine domestic rubber production is only at 351,556 metric tonnes. About 201,934 metric tonnes or 60% is for domestic consumption and 140,622 or 40% for export. The domestic market requires 323,000 metric tonnes per year, thus we have a deficit of 112,066 metric tonnes per year aside from the export requirement of 5% increase per year to the huge demand in the worrd market. This low rubber production and productivity can be attributed to the following issues and problems: 1) area planted with rubber is dismally minimal; 2) limited value adding activities for rubber products; 3) lack of defined quality standards for rubber products; 4) weak linkage of farm producers with key players in the marketing chain; 5) limited access to credit and financing; and 6) absence of an enabling business environment that will attract investments. To immediately address the problems confronting the rubber industry, this bill seeks to create under tke Office of the President, the Philippine Rubber Authority (PhilRA). As a single entity directly under the control and supervision of the Office of the President, it will accelerate the execution of its program, projects, and activities. | http://senate.gov.ph/lisdata/1217210640!.pdf |
Rubber Programs
| Agency | Program Title | Program Description |
| --- | --- | --- |
| Philippine Rubber Research Institute (PRRI) | Capacity Development Program for Rubber Farmers' Associations and Cooperatives | Training on Capacity Development Program to the TIMARBEMCO members at Tungawan, Zamboanga Sibugay on June 24-25, 2020. |
| Philippine Rubber Research Institute (PRRI) | Capacity Development Program for Rubber Farmers' Associations and Cooperatives | A two-day training on Capacity Development Program for rubber Farmers' Associations and Cooperatives was conducted at Brgy. Timalang, Ipil, Zamboanga Sibugay on June 22-23, 2020. The said activity participated with twenty-three rubber farmers from Timalang Rubber Farmers' Association. |
| Philippine Rubber Research Institute (PRRI) | Philippine Rubber Research Institute Seeds Distribution | PRRI staff on its implementation of rubber-based intervention project entitled 'Gulayan sa Gomahan' has gone to the area for seeds distribution to the identified rubber farmers and tappers at Dalisay, Titay, Zamboanga Sibugay |
| Philippine Rubber Research Institute (PRRI) | Collection of Rubber promising and potential clones (Special Project) | Germplasm collection have provided original materials for plant breeding program and crop improvement. Because of their genetic diversity and possible occurrence of particular desirable genes, germplasm collection are useful targets to plant breeders. Recently, many of germplasm are being lost worldwide due to habitat destruction, invasion of foreign species, and reliance on fewer high yielding strains. Therefore, maintaining germplasm collection will be utilized based on its characters of immediate perceived value or its potential variation. Furthermore, it can also be used to better understand the properties and performance of the plants, particularly at the genomic level. Nowadays, counties all over the world have set up facilities for conservation, characterization and utilization of germplasm collections of various crops either directly or indirectly. |
| Philippine Rubber Research Institute (PRRI) | PRRI- IRRDB Multilateral Clone Exchange Trial (Special Project) | The Multilateral Clone Exchange Program has been organized by the International Rubber Research Development Board (IRRDB) to preserve potential clones of good performance. Thus, popular clones evolved in different countries are being introduce to member countries and evaluate under the local agro climatic conditions. Fifteen countries under IRRDB membership are participating. In total there are forty-nine clones to be exchanged by 12 countries.  The Philippines contributed by giving its lone clone USM1 to all participating countries. While other countries such as; Cambodia, Cameroon and Guatemala are recipients only |
| Philippine Rubber Research Institute (PRRI) | Phenotypic Diversity of Small-Scale Hevea Germplasm Grown in PRRI Nursery at their Juvenile Stage | Proper identification of rubber clones plays a vital role in crop management system and research. Although clones do not exhibit highly distinct variations. Most of them possess differences in certain minor, but more or less stable morphological features which can be used for identification. Collection of germplasm resources is a significant component of any conservation program and is likely costly and logistically difficult. Germplasm collections in genebank repositories remain of less value unless characterized and evaluated for their range of variability and what they could offer for research and other uses. It is highly important to characterize and evaluate cultivar to look for novel gene sources that are potential and useful for future breeding study. This merited sufficient concern for the urgent conservation of its genetic resources which serves dual purposes; conservation per se and for the immediate and/or future utilization (Hodkin et al., 1995), as with other species. This study is being conducted to assess the genetic diversity of the collected hevea germplasm under PRRI nursery condition at juvenile stage to facilitate efficient selection of parent materials for hybridization and the identification of highly heterotic groups. |
The Rubber ISP aims to address the supply chain problems of the industry through S&T interventions such as:
Varietal improvement and selection through barcoding of high yielding clones (HYCs)

Rapid clonal mass propagation techniques and use of root trainer in nursery production

Rapid mapping of existing plantations and suitable areas using RS/GIS

Computer-based Decision Support System (DSS) for species-site compatibility

Package of technology in nursery and plantation management of HYCs in nontraditional rubber production areas

Optimized rehabilitation techniques for senescent rubber trees and production system through rubber-based agroforestry system in National Greening Program sites

Integrated Pest Management (IPM) control o

f rubber Phytopthora using biocontrol agents and biopesticides (effective microorganisms)

Optimized rubber latex harvesting/tapping and coagulation techniques through training of new rubber tappers and tapper trainors
Strategic R&D is DOST-PCAARRD's banner program comprising all R&D activities that are intended to
generate outputs geared towards maximum economic and social benefits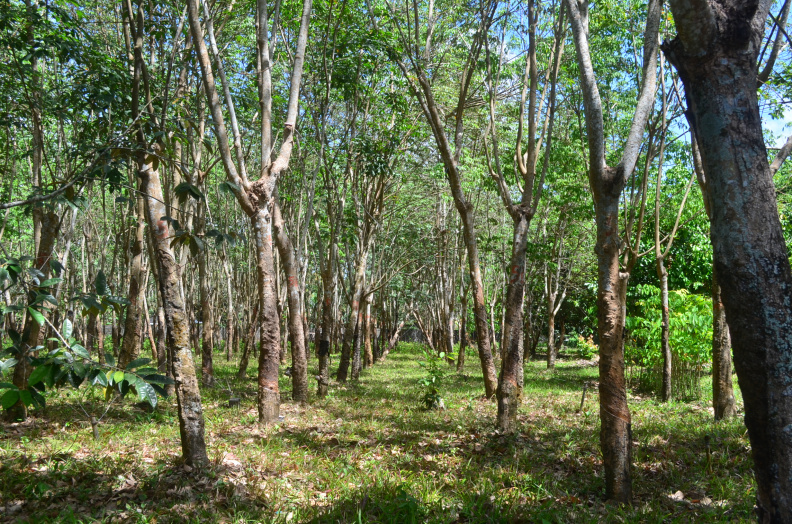 Functional genomics involves studies on how genes and intergenic regions of the genome contribute to different biological processes. This is..
Read More
Products, equipment, and protocols or process innovations developed to improve productivity, efficiency,
quality, and profitability in the agriculture and aquatic industries, and to achieve sustainable
utilization and management of natural resources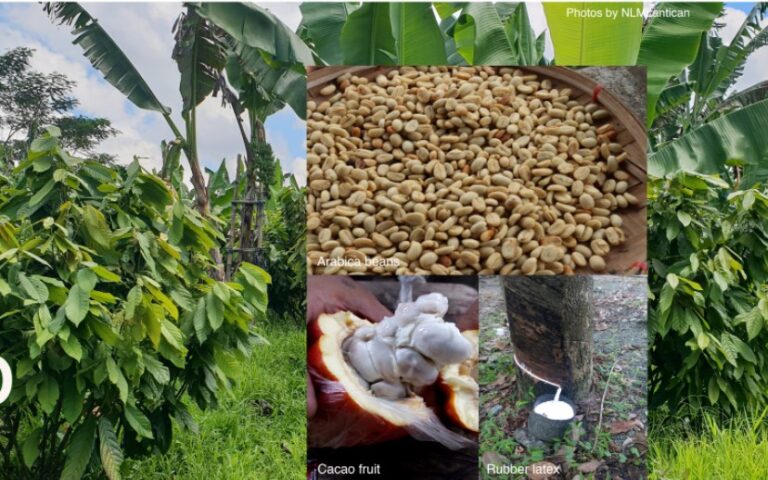 Species-site compatibility is a crucial factor in the establishment of forest plantations (ERDB, 2010). In the past, species trials conducted showed that different species have their own site requirements to...
Read More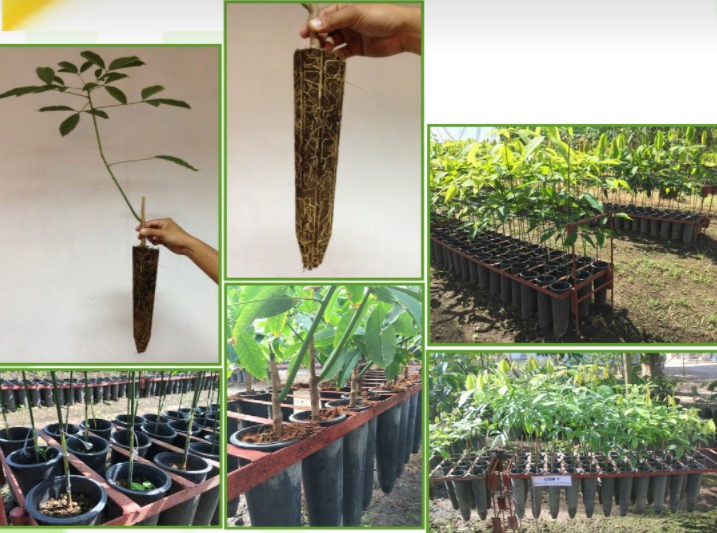 One aspect of growth improvement in rubber plants is in the good root development. For better growth of rubber seedlings, root trainer technology has been developed. Root trainers are specifically...
Read More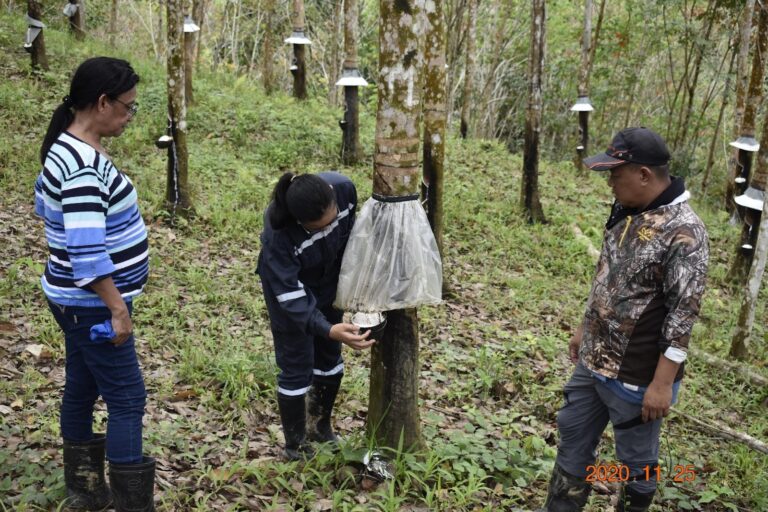 Rubber is one of the top agricultural crops in the Philippines for it generates employment in the rural areas, enhances environmental rehabilitation in idle lands and uplands, and is a...
Read More
Technology Transfer Initiatives
Technology transfer initiatives ensure that the outputs of R&D and innovations are transformed
into viable and applicable technologies that help intended users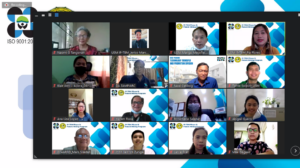 The project aims to strengthen the capacity of the Intellectual Property and Technology Business Development Office (IP-TBM) of the University of Southern Mindanao through patent mining. The project involves the...
Read More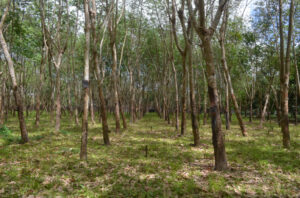 Basilan is now identified as a centre of commercial crops in the ARMM. It is an opportunity to enhance the province's potential for agricultural development. This proposal is a vital...
Read More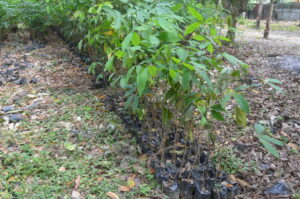 This project will adopt existing rubber technology to be implemented by the College of Forestry and Natural Resources with the collaboration of the Southern Tagalog Rubber Producers' Cooperative and consultants...
Read More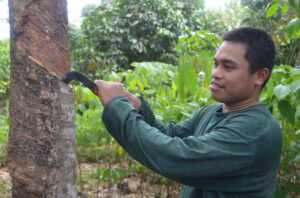 The intent of this project is to help improve the yield and quality of Philippine rubber latex and address the concern raised on incorrect tapping practices through the training of...
Read More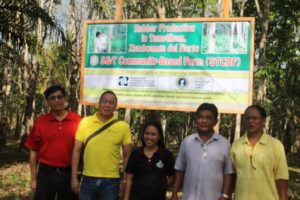 Zamboanga del Norte shared 4% of the country's total rubber production in 2010 where most of the rubber plantations are managed by Agrarian Reform Communities and only a few are...
Read More
Capacity building efforts of DOST-PCAARRD seek to develop and enhance the R&D capabilities of researchers
and academic or research institutions through graduate assistantships & non-degree trainings
and development and/or upgrading of research facilities