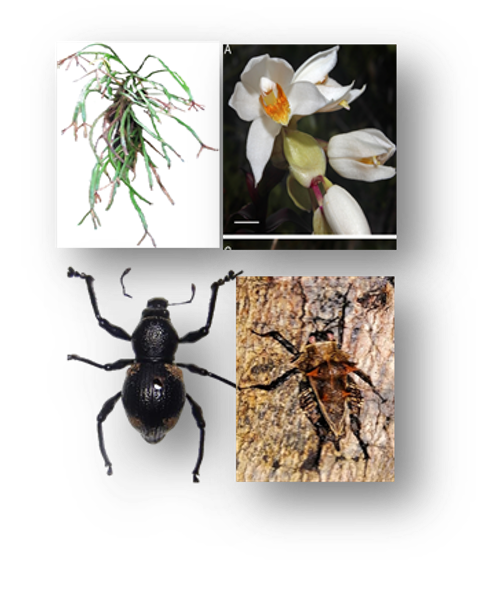 This DOST funded research project is a collaboration between four (4) agencies such as: CMU, MNH-UPLB, NMP, and DOrSU.  This project aims to update, assess and monitor the biodiversity of flora and fauna in four (4) mountain ecosystems of Mindanao namely: Mt. Apo, Mt. Hamiguitan, Mt. Pantaron and Mt. Tago; evaluate their physico-chemical properties for the elucidation of the interconnectivity of the ecosystems; update existing data on biodiversity; identify possible ecotourism sites; and fill the gaps in biodiversity management frameworks steered by the Department of Environment and Natural Resources (DENR) through studying the ecosystems in a landscape approach using biodiversity and forest condition assessments.  Interrelated data obtained in this research will serve as basis for policy-making bodies in formulating policies relevant to biodiversity conservation. Mentoring and capacitation of stakeholders are also being done as part of the project's activities to ensure sustainability and monitoring of the remaining threatened, endemic economic/iconic species and their habitats.
Sampling stations were established in the different sites viz., Mt. Hamiguitan, Mt. Pantaron and Mt. Tago ranges. These stations served as areas for diversity studies, assessment / re-assessment and monitoring of the flora and fauna and for gathering of ecological parameters. Likewise, these were used for training the local researchers and served as field laboratory for students.
One of the major accomplishments of the project is the discovery of new species of flora (i.e. Seliguea pyrolifolia, orchid: Dilochia deleoniae Tandang & Galindon (Orchidaceae), grass fern: Actinostachys minuta Amoroso & Coritico) and fauna (i.e. Metapocyrtus sp.) in the mountains of Mindanao.