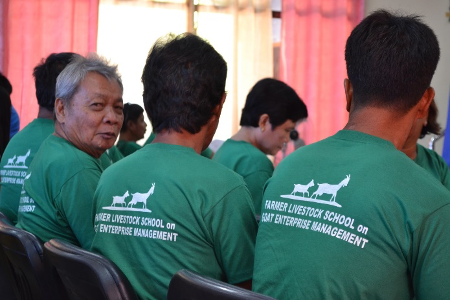 A notable project that brought the science of goat raising back to the consciousness of small and medium-scale entrepreneurs and the local government is the Farmer Livestock School on Integrated Goat Management (FLS-IGM). It is a 28-week discovery-based adult education course designed by DOST-PCARRD in 2002 and adopted as a full-blown program in 2004 by Local Government Units (LGUs) initially in Region 1 and later in other municipalities in the country.  It was upgraded to the Farmer Livestock School on Goat Enterprise Management in 2013 and revised in 2017, as it became the catch basin for all mature technologies on goats.
It focuses not just on the science of raising goats but also on building profitable goat enterprises. It allows goat farmers to discover and learn through "farmer experimentations" and testing until ultimately they develop the right technology mix suited to their goat problems, resources, and capabilities.  
Farmers who were trained under the FLS showed improved competence in managing their farms.  Because of their FLS-acquired knowledge and skills on upgrading of stocks vis-à-vis proper feeding of the does prior to breeding and during gestation and lactation, the problem of low dam performance was addressed.  Data from 2021 showed that the conception rate has already increased from 75% to 87%. The 2028 target is 90%. Not only was the natural conception rate improved but there was marked improvement in the dam's kidding interval. Since FLS enrollees across the 10 regions were trained on proper nutrition of the does and given proper access to either semen (thru AI) or bucks, it was easy for them to shorten the kidding interval of their dams from 9 months to 8 months, thereby increasing kidding index from 1.35 to 1.52 kiddings/doe per year.  
With the promotion of proper feeding and health regimen for does and kids, preweaning mortality also significantly dropped from 25% to 5% by 2021 with the proper knowledge of farmers of the right nutrition and health management.  The most notable aspect that improved pre-weaning survival was the adoption of proper housing location, layout, and facilities.
And considering the infusion of quality genetic materials through AI, an increase in slaughter weight of 67% (15kg to almost 25kg) was seen across smallholder farms because of these upgrading efforts.