Coffee is an important global commodity and the Philippines is a potential producer of coffee and it is considered as one of the high-value commercial crops in the local and foreign markets.
Locally, Sultan Kudarat province is the top producer of coffee which yields in 2016. Despite economic significance, there is also a declining trend in the production of dried coffee berries since 2017 mostly due to the effects of diseases and pests that could influence yield and quality of coffee. 
Eventhough chemical control developed by many researchers has a low level of adoption of this technology by the farmers due to high cost of pesticides, harmful effect to humans and adverse environmental impact. One strategy now is using biological control agents like biopesticides, effective microorganisms, indigenous endophytic microorganisms which are cost effective and environmentally friendly for the control of pests and diseases. 
Optimum disease management strategy would be to identify beneficial microorganisms that persist in the crop canopy and root systems and provide disease control without regular spray applications. Thus, the use of these microorganisms could result in long-term disease control with limited cost to the farmer and could actually be beneficial to the environment.
Thus, this study will also provide information to the farmers and community that there could be a high potential in using indigenous endophytic microorganisms as biocontrol agents to protect coffee plants from known pests. 
The project will develop preventive low-cost control strategies that can help farmers  gain savings in buying expensive pesticides.
In general the project aims to determine the effectiveness of bio-control agents for the management of coffee major diseases.  Specifically, this project aims to: 
determine the incidence/severity of coffee major diseases in coffee nurseries/plantations and evaluate the distribution of coffee major diseases in Region 12;

explore new alternative agents to control major plant diseases on coffee;

assess the antagonistic activities of endophytic microorganisms and cost-effectiveness of various bio-control agents against major diseases of coffee; and

develop a package of technology (POT) of bio-control agents against coffee major diseases.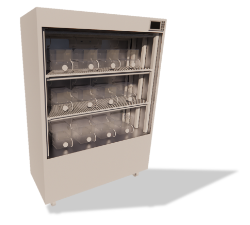 In general, the project aims to design and develop a low-cost temporary immersion bioreactor system for the mass propagation of coffee planting materials.  Specifically, it aims to:
design a temporary immersion bioreactor system based on the design of existing commercially-available bioreactors and end-users' preferences;

fabricate a temporary immersion bioreactor system using low-cost and locally-available materials;

test and evaluate the performance of the temporary immersion bioreactor system through the conduct of experiments; and

determine the economic benefits of using the temporary immersion bioreactor system