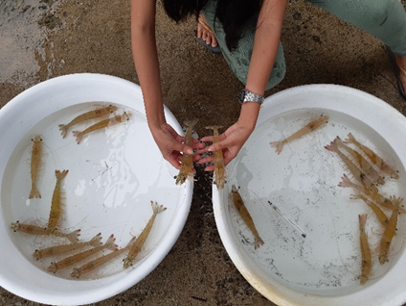 The success of any selective breeding program relies on the genetic diversity of the founder lines so that the selection progresses forward without the negative influence of inbreeding depression. Through this project implemented by the University of the Philippines Visayas, three families of P. vannamei (KONA, SIS & Philippine local) were obtained from different commercial broodstock producers to establish the base population with high genetic diversity. 
Population batches of KONA and SIS lines of P. vannamei that are adopted in the local condition were produced. First step of the selection process has been applied to both the KONA and SIS lines and their cross. F1 and F2 generation were already obtained and reared to maturity. The selected individual exhibited about 17-30% increase in growth performance as compared to the normal unselected population.
To date, F4 generation of cross breed (KONA x SIS lines) was obtained and selected for fast growth. Moreover, the project was able to obtain F4 generation of pure breed SIS and KONA broodstock lines selected for growth. Overall data of the selection process for growth indicates linear increase in the number of fast growing individuals in a population as the selection progresses to the different generation.  On the other hand, F2 WSSV-resistant broodstock was also obtained.
Developed maturation diets formulated with fishmeal as a protein source were found to promote gonad maturation of shrimp that are not ablated. The effect has been found comparable to the effect of shrimp that has undergone eyestalk ablation and fed with raw fresh squid as maturation feed.