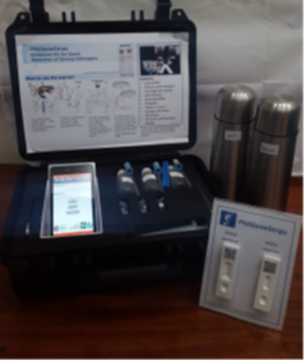 The program titled "Development of Diagnostic Tools through Genomics and Establishment of the Philippine Shrimp Pathogen Biobank and On-line Biosurveillance and Information Resource" is composed of the following projects: 
Project 1. Shrimp pathogenomics towards a competitive and sustainable Philippine shrimp industry

Project 2. Establishment of a Philippine shrimp pathogen bio-bank and on-line biosurveillance information resource

Project 3. Development of shrimp pathogen diagnostic tools using nested PCR and lateral flow strip biosensors with mobile app and cloud-based information management
This program aimed to develop diagnostic tools for aquatic pathogens as well as launch a biosurveillance system through the establishment of the Philippine Aquatic Pathogen Database Resource. Whole genome sequencing of strains of bacteria and viruses that significantly impact the productivity of aquaculture in the Philippines will be performed and the genomic information will be correlated to historical information accompanying each strain with the hope of deriving meaningful information regarding their occurrence, pathology, infectivity, and origins. This program aimed to improve performance of domesticated males by nutritional manipulation; improve formulated diets for domesticated female shrimp broodstock; and identify environmental factors that may affect percentage maturation, fertilization rate, and hatching rate of domesticated broodstock.
The program was able to establish an Online Shrimp Pathogen Information Resource (OSPIR), country-wide biosurveillance system, and Shrimp Pathogen Bio-bank. Furthermore, the program also developed a DNA based Lateral Flow Strip Biosensor (LFSB) prototype for shrimp pathogens, as well as the lab-based post amplification. The program also generated the genome sequence of shrimp pathogens.