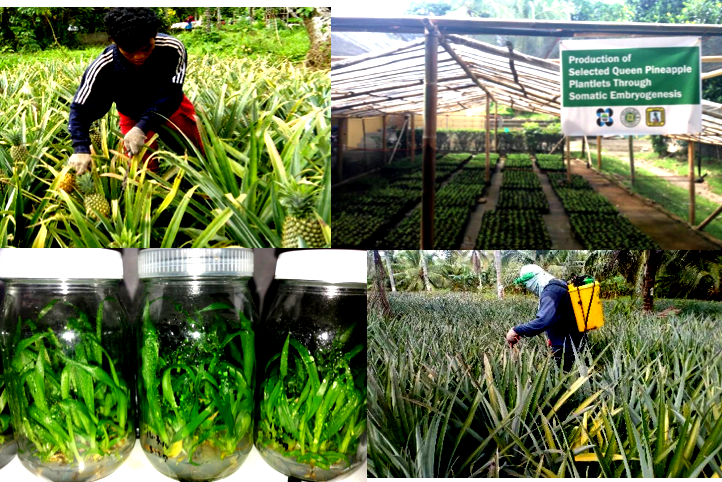 Queen Pineapple production is mainly concentrated in Regions 5 (Bicol) and 8 (Eastern Visayas), which accounts to about 5% of the national pineapple production. 
This program was able to address some of the pressing problems of the industry. The most significant of which is the mass production of pineapple planting material through somatic embryogenesis as an alternative technique for rapid mass production of quality planting materials. The protocol can produce 8,000-10,000 QP plantlets within 8-10 months earlier than the traditional source of planting material which becomes available after harvest from 12-15 months old pineapple plants. Using these planting materials from somatic embryogenesis, farmers can plant and harvest earlier. Aside from this, there is a high possibility of producing uniformly sized fruits with high marketable quality.
Another output of the program is the optimization of planting density and intercropping system. With the result of a cost and return analysis conducted in Camarines Norte, as much as P118,841 per hectare can be earned in Queen Pineapple plantation using planting density of 30,000 plants/ha with application of fertilizer based on soil analysis.
Moreover, the project on the development of site-specific sustainable pest management of Queen pineapple under different cropping schemes in Leyte and Camarines Norte identified pink pineapple mealybug (PPMB) as the major insect pest infesting the roots, leaves and fruits. The mealybug was found to be common in both provinces and is the most infectious pest. Potential natural enemies, parasitoids and botanical extracts were identified for use in managing pests and diseases.