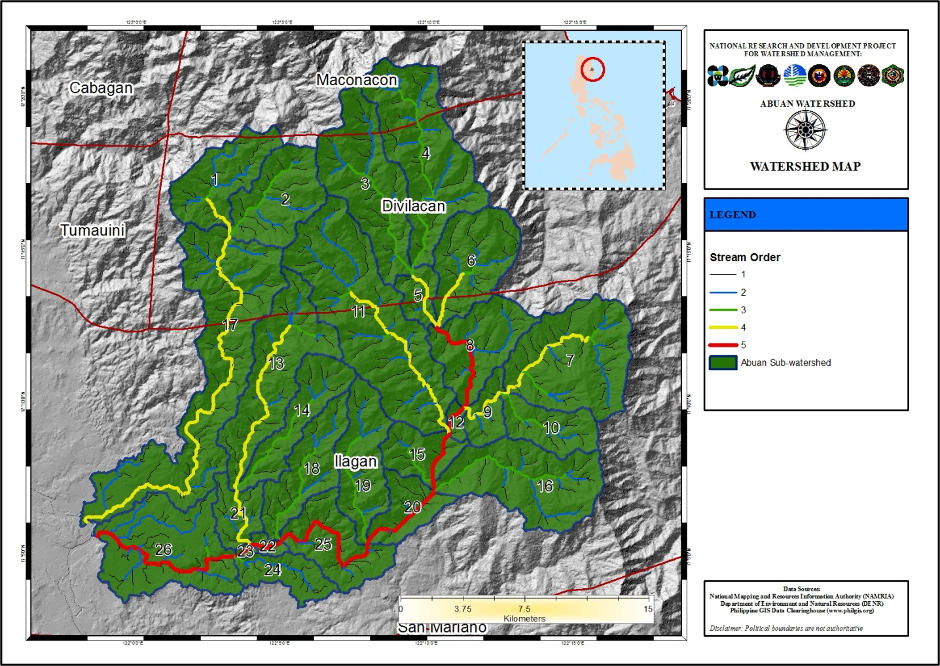 This project report presents the characterization of the Abuan Watershed in the province of Isabela in terms of its social, physical and biodiversity aspect. Various studies were conducted to show the relationships of watershed variables across each aspect. Three teams were structured to carry out important studies for the social, physical and biodiversity aspect of the Abuan watershed.
Abuan watershed is home to more than 3000 households who are mostly dependent on the watershed resources for their livelihoods. Currently, there are more than 400 hectares of cultivated areas above 18% slope in Abuan. Corn farming is the major source of livelihood in the community and combined family income meets the poverty threshold levels. The local government is providing needed infrastructure, health and social services. The people are active members of organizations and are involved in community development and watershed management projects. They regularly participate in activities spearheaded by the local government units, national agencies, private organizations and churches.  Watershed programs include; greening program, waste management, reforestation, agro-forestry, organic agriculture, flood warning systems, integrated water resources management and other livelihood activities supportive to environment protection. 
Biodiversity assessments showed that the Abuan watershed is moderately healthy. Flora biodiversity assessments showed that the Abuan watershed is very healthy upstream and moderately healthy downstream. There are 66 and 38 tree species upstream and downstream, respectively.
Geomorphology of the watershed indicated that it has a high risk of flooding.  However, due to the availability of coping mechanisms of the community, vulnerability to flood, drought and soil erosion ranged only from low to very low.