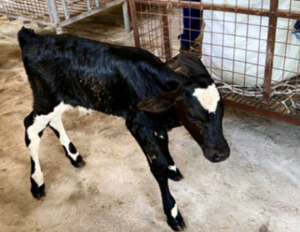 PagAsa is the first calf produced through Embryo Transfer technology that used fresh embryo from a Girolando donor cow.
The Embryo Transfer project of the Philippine Carabao Center was able to locally produce embryos from their in-house Girolando cow through optimized fixed time AI (FTAI) and multiple ovulation and embryo transfer (MOET) protocols. PagAsa was calved on 24 April 2020 at 33kg body weight in the height of the Covid-19 community quarantine in Nueva Ecija. Ultrasound examination confirmed pregnancy at 45 days post embryo transfer. 
The birth of PagAsa was able to provide a proof of concept on the use of optimized biotechnological applications in breeding adapted to our local conditions.