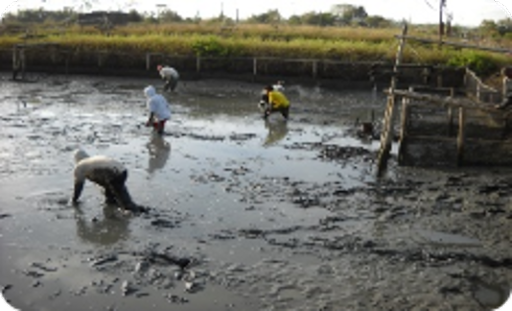 The program titled "Program C. Improvement of Feeds and Stock Management Practices for Mud Crab Grow-out Culture" is composed of the following projects:
Project 1. Evaluation of existing feed formulations for mud crab grow-out

Project 2. Development of feeding strategies for grow-out culture of mud crab in ponds, pens and cages

Project 3. Development of immunostimulants for mud crab

Project 4. Pilot Testing of mud crab experimental diets and field testing of mud crab phased diets

Project 5. Pilot–scale production of pellets suitable for mud crab

Project 6. Improvement in the Handling, Storage and Transport of Mud Crabs
This program aimed to improve the yield in grow-out systems for mangrove crab through the use of feeds and feeding schemes that will promote fast growth and higher disease resistance.
The program was able to increase the survival rate in the grow-out to 60% through the improved grow-out technology. Basal diet containing 48% crude protein, 5-6% crude fat with an estimated dietary energy of 1723 MJ/kg diet to supplement the traditional or natural food by 50% was identified. It was found out that the use of synthetic binders improved water stability of feed pellets up to 24 hours. Spherical or tubular pellets were found to be the best form for formulated crab diet. Efficient immunostimulants in improving growth, survival, immunity and disease resistance was also optimized. Moreover, feeding protocol for grow-out production of crabs in ponds, pens and fattening cages, as well as the prototype container boxes for bulk handling and transport were developed.