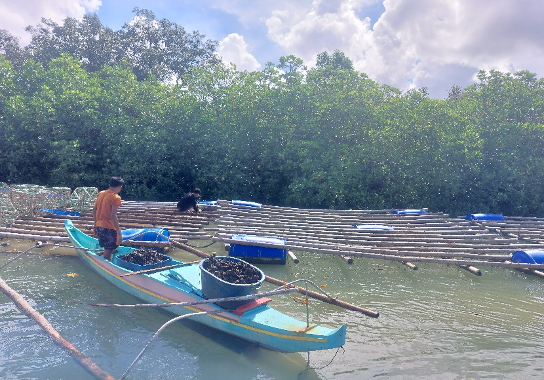 The SCI2SOS project funded under the CRADLE Program of DOST aims to establish oyster mariculture areas through sustainable means and by using science-based decision making in the monitoring of such oyster mariculture. The project was originally proposed as an alternative livelihood to fisherfolk, especially during the height of the COVID-19 pandemic, in order to provide a sustainable means of income in addition to catch fisheries. The project's site of implementation is located in the Municipality of Macalelon in Quezon Province, where selected local fisherfolk have been chosen as the project's beneficiaries. 
The project employs raft-based oyster mariculture technologies, established by SEAFDEC, which enable the translocation of the structure when the site conditions fail to maintain optimum conditions for oyster growth. This project is a cooperation of the UPD MSI, an academic institution in charge of science-based decision-making, DA-BFAR, a government agency responsible for training and capacity-building, Tambuyog Development Center, a non-government organization in charge of organizing the local fisherfolk community, and ASIN, Inc., a private company in charge of providing additional support and serving as a market for the harvested oysters.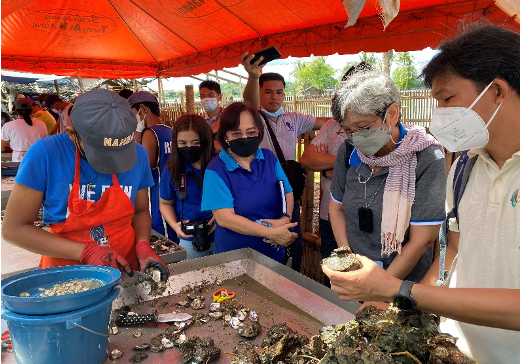 The results of the project include a strong collaboration between an academic institution, a government and non-government agency, a private agency, and local beneficiaries. Environmental recommendations include: maintaining a proportion of the grown oysters per harvest in the area to serve as broodstock to increase the larval supply for subsequent spatfall events, which is a major limiting factor in wild oyster farming; and the management of their wastewater as precaution to harmful algal blooms, an ever-present risk in shellfish farming. In addition, staff of the DA-BFAR have been capacitated to conduct water quality monitoring activities for oyster mariculture in estuarine systems. Most importantly, however, is that the project's results provided an oyster cropping calendar, now based on quantitative data rather than local knowledge.