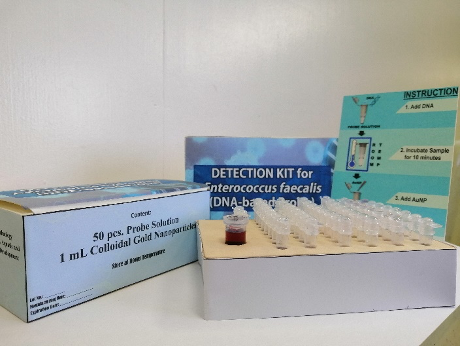 Among the various disease-causing pathogens, bacterial pathogens are the major cause of infections and disease problems in wild fish and fish reared in confined conditions. An important prerequisite for diagnosing and establishing proper treatment and preventive action against diseases is through disease detection.  The Central Luzon State University through the leadership of Dr.Karl Marx A. Quiazon  developed the Aerobac Test Kit.  The project utilized nanotechnology and genome-related technologies in the development of a rapid detection kit against bacterial pathogens in tilapia (i.e., Aeromonas hydrophila and Enterococcus faecalis). 
It has developed and produced two DNA-based detection kits for Aeromonas hydrophila and Enterococcus faecalis that are budget-friendly, rapid, and user-friendly.  The developed technology hopes to contribute to the tilapia aquaculture industry and help prevent fish mortality in the earliest stages, thereby giving farmers immediate precautionary and preventive actions to prevent disease outbreaks.
The Aerobac Test Kit caters to the need of fish farmers, students and researchers in the provision of a reliable and user-friendly diagnostic technique for pathogenic bacteria that could result to a possible disease threat to the culture system.  It is recommended that the detection of A. hydrophila and E. faecalis using protocol B can be further investigated to obtain accurate results.  The Modified Protocol A-2 produced from the Detection Protocol A represents a platform that can be used to accommodate easy, accurate and rapid detection of many bacterial species using an array of probes and be easily adapted and used in kitchen-type laboratories.