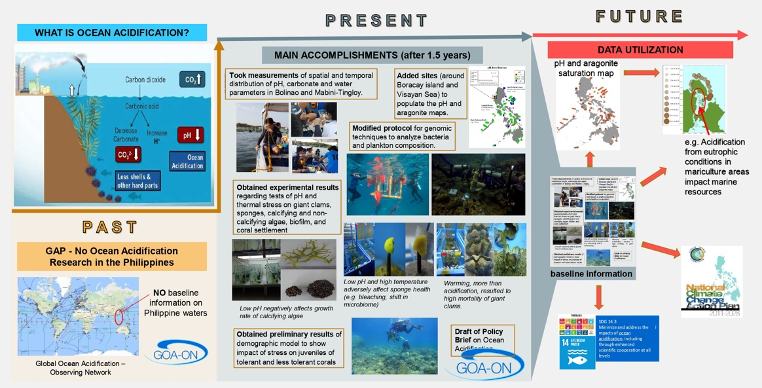 The Coastal Acidification Program generated information on coastal acidification as a contribution to justify the inclusion of coastal acidification to the National Climate Change Action Plan and to provide actual Philippine coastal acidification data to the Global Ocean Acidification – Observing Network (GOA-ON).
Through this program, data from 63 sites across the country was generated and presented as seawater pH and aragonite saturation state (ΩArag) maps which serves as the country's baseline data on carbonate chemistry.  These maps will be used as basis to compare future changes in ocean acidity.  From these baseline information, pH vulnerable areas in the country were identified to determine where acidification should be monitored. This is to guide the development of policies on resources management for mariculture activities, identifying areas for restocking and coral restoration efforts among others.
Field monitoring and assessment also highlighted the variability of the responses of coral assemblages to ocean acidification and the necessity of finding the appropriate scales at which these factors are predictable and detectable. Studies in Mabini, Batangas, where volcanic vents create acidic conditions, showed that some corals could tolerate acidified ocean conditions, albeit for only brief periods. These conditions are also very localized.
Further, in order to understand what happens to plankton when pH shifts, the first of its kind mesocosm was designed, constructed and used in the field. Observations on the responses of higher level marine organisms provided knowledge relevant input towards strategies for climate change adaptation measures for biodiversity conservation, food security, and livelihood.
(Coastal Acidification Program, Dr. Ma. Lourdes SD McGlone, Dr. Aletta T. Yñiguez, Dr. Patrick C. Cabaitan/UPD MSI and Dr. Wilfredo Roehl Y. Licuanan/DLSU)