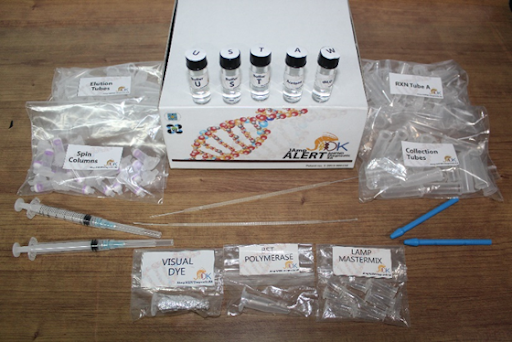 The University of Santo Tomas led by Dr. Mary Beth B. Maningas developed a JAmp-AHPND Diagnostic Kit, a loop mediated amplification-based, rapid detection platform for AHPND in shrimps. The name is shorthand for Juan Amplification and emphasizes the kit's main features: a Philippine-made detection tool that can amplify target viral DNA using one amplification temperature and give results in one hour. The kit was designed to be an on-site detection platform that serves as an alternative for the more common PCR. It requires a two-step process: the extraction of the target DNA and the LAMP reaction. The extracted bacterial DNA from the shrimp tissues will then be used in the LAMP assay. 
A total of 13 new generations of heat block machines were fabricated. These easy to operate machines were designed to maintain the required temperature for the LAMP assay. In the new generation heat block, the viewer or the blacklight was placed at the front of the machine to enable the users to easily view the results. Another unique feature of the new model is that the temperature and time controls were made customizable, making it applicable to detect wide variety of diseases. The technical improvement also includes the usage of 250w heater from 100w heater to improve temperature specificity and addition of plastic base stands to allow better ventilation.
In addition, a total of 9 kits were turned over to nine adopters in Luzon and Visayas.